October 3, 2023
Posted by:

Mohammed Abiola

Category:

Competitive research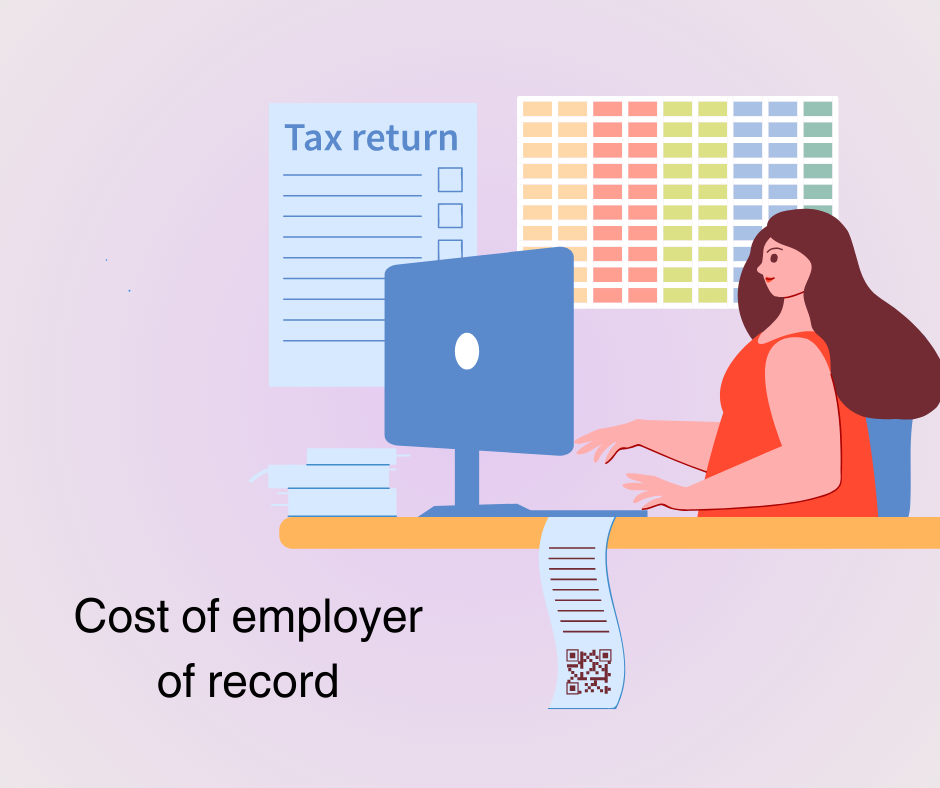 How much does an employer of record services cost? Employer of record pricing varies, and it depends on several factors. Different employer of records set different pricing structures for their services. On average, an employer of record costs between 200 and 400 dollars. Getting cost analyses when searching for an employer of record is important, especially for companies with a defined budget.
This article will guide you on the employer of record pricing, how EOR sets pricing models, and how to choose the right EOR for your business.
How is the Employer of Record pricing determined?
Custom pricing
This pricing set-up entails a custom-made or personal quote prepared by the employer of record based on the client's needs and structure to determine the cost. The quote depends on a number of factors: number of employees, salary structure, and other services such as benefits, insurance, etc. Basically, the structure of the quote depends on the specific needs of the client. You get to pay for what you only need and not for the entire employer of record services package. This is best for businesses that have a pre-defined need and budget.
Fixed or flat pricing
In flat or fixed fee pricing, you pay based on a fixed price set by the employer of record. With this system, there is no unwarranted increase in the amount you pay at any time, as the price tag always remains the same. This is best for businesses with a set budget and a changing workforce headcount.
Percentage pricing
This pricing model was the earliest form of pricing used by employers of records. In this form of pricing, you pay the EOR based on a percentage. However, it comes with a glitch; it looks like a cost-effective system, but it becomes expensive as employee salaries and numbers increase. This is because you pay based on the percentage of your employee's salary. A low salary attracts a lower percentage, while a higher salary attracts a higher percentage. An increase in employee salaries attracts an increase in the percentage fee you pay to your employer of record to maintain services.
Factors that affect employer of record pricing
To navigate the complexes of an employer of record, you have to be familiar with the factors that influence pricing structure.
Cost of compliance
Establishing your business in another country where you lack knowledge of the regulatory by-laws of the environment can be consequential. However, an EOR will prevent any risk associated with a lack of compliance. Different countries have different laws and regulations that businesses must comply with. To ensure compliance, businesses pay compliance and taxation fees to employer of records. The degree of complexity of the compliance system in that environment impacts the fees you pay to your employer of record.
Employee scale
The size of a business workforce determines the cost of services that an employer of record renders to the business. Businesses with a smaller number of employees may pay less compared to businesses with a larger number of employees. This is because as the workforce increases, the workload of administration for the EOR also increases.
Location
The location of business employees influences the cost of an employer of record services. Different countries have varying laws and regulations pertaining to employment, taxation, and compliance. An EOR must navigate through the complexities and, in the process, ensure optimum compliance with the laws. These factors affect the cost of EOR services.
Scope of service
Employer of record services providers offer a range of services that are beneficial to businesses. These services may include only basic EOR services or include value-added services like benefits and compensations. EOR factors them in when setting the cost. The more services a business needs, the higher the cost incurred.
What EOR services does the pricing cover?
Thinking about what you are paying for? Here's a list of employer of record services that form part of the cost.
EOR set-up fee
An EOR provider may require you to pay a one-time set-up fee. This fee is non-refundable and must be paid once. It covers the setting of the contract, onboarding employees, and enrolling them on the payroll. The setup fee you pay depends on your EOR provider. Talk to your EOR about how they implement their set-up.
Recruitment
EOR manages the recruitment and onboarding of new hires on your behalf while maintaining compliance with the employment laws of that country. They handle every aspect of recruitment, including sourcing, screening, interviewing, and onboarding of employees. EOR providers look for qualified employees who fit the needs of the company.
Payroll processing
EOR takes charge of payroll administration in a way that complies with the local regulatory structure. They track employee daily time stamps, calculate wages and salaries, deduct payroll taxes, and file payroll taxes.
Compliance with regulations
EOR service providers manage administrative and human resources tasks while ensuring compliance with regulatory bodies. They ensure your business remains compliant with employment and financial laws without you establishing a physical entity wherever your business operates.
Employee benefits
Some countries make it mandatory for employers to provide benefits to their employees. Failure to comply may attract hefty fines and charges. An EOR makes this easy by providing the needed benefits to your employees on your behalf. Likewise, for employers that provide competitive benefits packages outside the normal benefits, done to gain an edge over competitors and retain top talents, an EOR can include those packages in their services.
Employee management
Partnering with an employer of record is a great way to manage an employee's documentation and paperwork without being present. An EOR will handle employee onboarding, keep employee records, and terminate employees on your behalf. This takes off the burden of managing employees while maintaining full operations.
Tips for selecting an EOR
Choosing the right employer of record to partner with involves being deliberate and carefully considering the various options available. Here are some key tips to help you choose the right partner:
Scan through EOR providers
Lots of EOR providers exist out there; due to this, it might be difficult to select the best fit for your business. Get their individual quotes to determine the pricing system of the various EOR providers. This will give you an idea of the pricing model, breakdown of fees, and hidden charges where applicable.
Compare EOR services
Apart from having knowledge of the pricing model, go through their service catalog. Have a thorough knowledge of the different services they provide and how they cater to your business needs.
Track record
Go through their track record. Scrutinize their achievements and level of technological advancement and use. Check out their testimonials and client feedback.
Scalability
Determine if the provider is capable of accommodating growth. You don't want an EOR that will terminate their services abruptly as a result of an increase in the workforce. Examine the capacity of the provider to manage future increases in employee headcount.
Customer support
Assess the level of support the employer of record provides. Examine how responsive and sensitive they are to complaints. Determine if they possess a dedicated customer care representative, as they increase trustworthiness and the overall client experience.
Manage your workforce with PoweredUp consulting
Selecting an employer of record to manage your employees can be a daunting task. Some EORs can be expensive to partner with and may come with hidden charges. At PoweredUp Consulting, we are committed to providing the best services to give your business the best experience at a lower cost. Our experts are there to provide the optimum attention and management finesse to your growing workforce needs. To learn more about our pricing model and cost breakdown, get in touch with our consultants today.