About this training: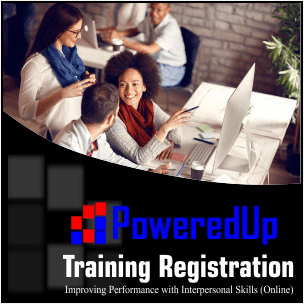 We've all met that dynamic, charismatic person that just has a way with others, and has a way of being remembered.
Most business and technology professionals have heard of the concept interpersonal skills, but few actually understand what it is and how the knowledge of interpersonal skills can improve individuals at the workplace. Even fewer know how to be aware, evaluate their level of skills, or how to work to improve them. In this course, Improving Interpersonal Skills, you'll learn to develop and improve workplace relationships, you will learn Improving Performance in Management, also learn improving performance in the workplace.

Effective Interpersonal Skills
Engage in challenging conversations with positive outcomes
To become more self-aware during workplace interactions
Effective communication strategies for effective workplace collaboration
The skills and knowledge of interpersonal skills needed to build and maintain meaningful in-person and virtual workplace relationships.
All levels of employees
Marketing and Communication teams
Negotiators and Business Owners
Are You Ready? Then Lets Begin ..
Course Content:
Introduction to Interpersonal Skills
Importance of Interpersonal Skills
Skills that make up interpersonal skills
How to Develop and Improve Interpersonal Skills
Communication
improving performance in management
improving performance in the workplace
Emotional Intelligence
Problem Solving Skills
TRAINING DETAILS
Two Days Training
₦60,000.00
Sixty Thousand Naira Only
Training Date
– Date & time will be sent to your email –
and your Whatsapp
Venue
This shall be live virtual learning led
by our world-class facilitator
Certificate
Certificate will be given to all participants.
TO REGISTER
Make payment to;
Account Name: PoweredUp Motivational Services*
Account Number: 001 621 9233.
Bank Name: GTB
After making payment:.

Send your Name, Phone number and email to;
info@poweredupcon.com
Or send to: 0814 241 1090
For More Details: call 0814 241 1090.
Traditional employee performance management has not always been as effective as it should be, but you can change your performance management plan to deliver greatly improved results. They are several learning courses and tools to really also help you improve your performance, some of which are importance of performance management, improving performance in the workplace, performance management approaches, performance management functions, objectives of performance management.