About this training:
The Basic Book keeping and Accounting for Non Accountants (Online) will help businesses with the process of recording and organizing a business's financial transactions. It will help business owners to figure out if their business is profitable: keeping an eye on your numbers lets you identify financial challenges early on and address them before they blossom into full-fledged crises.
Understand and apply essential numerical skills required for bookkeeping and accounting
Understand and explain the relationship between the accounting equation and double-entry bookkeeping
Record transactions in the appropriate ledger accounts using the double-entry bookkeeping system.
Balance off ledger accounts at the end of an accounting period.
Prepare a trial balance, balance sheet and a profit and loss account.
Anyone that intends to understand bookkeeping
Entrepreneurs and Business owners
Professionals from any field
Anyone interested in learning the basics of Accountancy & Finance.
Are You Ready? Then Lets Begin ..
Course Content:

Introduction to bookkeeping and accounting
Basic Accounting Principle.
Learn to classify different accounts.
Three golden rules of accounting.
What are debit and credit?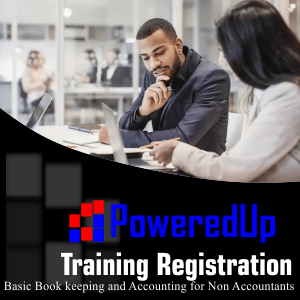 TRAINING DETAILS
Two Days Training
₦60,000.00
Sixty Thousand Naira Only
Training Date
– Date & time will be sent to your email –
and your Whatsapp
Venue
This shall be a live virtual learning led
by our world-class facilitator
Certificate
Certificate will be given to all participants.
Bookkeeping and Accounting Course online
TO REGISTER
Make payment to;
Account Name: PoweredUp Motivational Services*
Account Number: 001 621 9233.
Bank Name: GTB
After making payment:.

Send your Name, Phone number and email to;
info@poweredupcon.com
Or send to: 0814 241 1090
For More Details: call 0814 241 1090.
Powered up consulting has a wide range of e-learning courses and tools that will help boost your company or personal career standards such as bookkeeping and accounting courses online, we offer some free online bookkeeping courses Quickbooks, free online bookkeeping courses with certificates, we have the best online bookkeeping courses