November 6, 2023
Posted by:

Mohammed Abiola

Category:

Uncategorized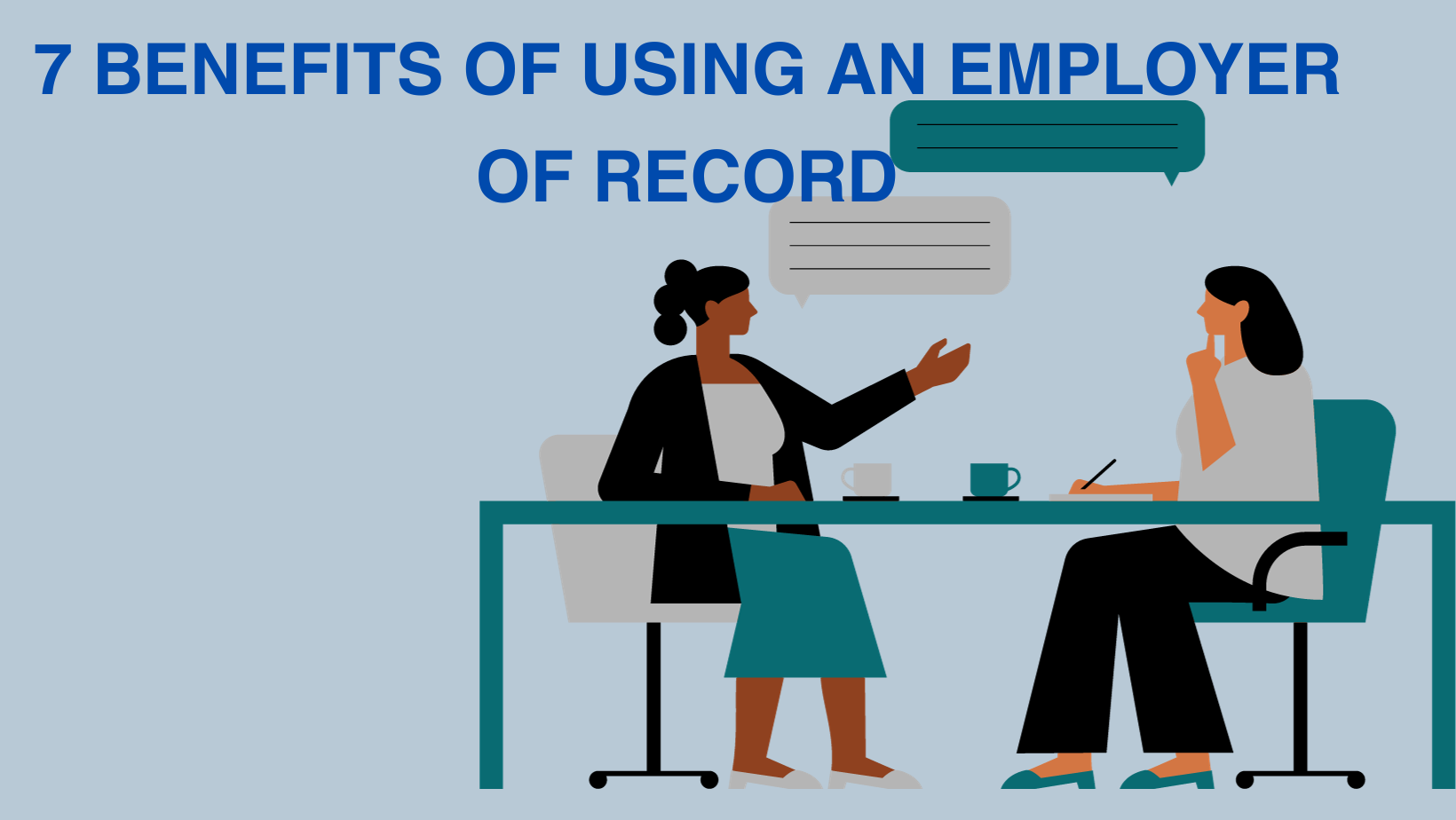 The global expansion of companies comes with a lot of overwhelming tasks, from hiring new employees to managing a global workforce. Moreover, they have to comply with different laws, pay foreign employees, remit payroll taxes, administer benefits and perks, and so on. All these can be tedious, time-consuming, and risky when not done properly. An employer of record such as PoweredUp Consulting will help reduce the workload for such companies and allow them to focus more on their global expansion strategies and core operations.
This article will help you gain more insights into the benefits of an employer of record and why businesses need one. Let's explore this in depth.
Who is an employer of record?
An employer of record is a solution for businesses or companies seeking to expand a new market. Instead of setting up a new entity in a new territory, an employer of record takes on the responsibilities of a legal employer on behalf of the company. The EOR employs employees according to the employment laws of the country, processes payroll, administers perks, and manages the workforce on behalf of the company.
Partnering with an employer of record takes away the burden and costs of creating a subsidiary in the location where you seek to hire new employees or establish your brand.
Why do you need an employer of record?
There are a lot of reasons why companies need the services of an employer of record. These still depend on your goals and your business needs.
Explore new markets
Generally, every business's long-term goal is to expand into a new market. But expansion comes with a cost, especially for small and medium-sized businesses. Expanding means you have to establish a new entity and follow the rules of the country. However, you can expand seamlessly into new countries with an EOR without establishing an entity or committing to employment and labor laws. The EOR will do all that on your behalf.  
Employ top talents globally
Let's face it, remote work is becoming more desirable for both employees and employers. Hiring international talents has not become easier, as there's a fierce race to hire top talents from across the globe. It becomes harder for companies that have no legal entity in the country, and they tend to lose out on the race due to tougher competition. This is where an employer of record comes in; they will help you hire any talent of your choice and onboard them on your behalf.
To avoid contractor misclassification
Most companies hire contractors when avoiding hiring remote employees, in addition to setting up an entity. This may be a cheaper alternative because the company won't have to pay employee taxes or administer benefits, compensations, or allowances. However, in the long term, as the company grows, this approach can become unattractive and expensive as the duties of contractors and employees overlap. It may lead to misclassifying contractors as employees, and companies found guilty may face hefty penalties and charges. An employer of record offers a better way of hiring contractors as employees to prevent misclassification.
Have a representative during entity establishment
Some businesses may need to hire international employees before establishing a legal entity. But this becomes a problem as a company can't hire workers without setting up an entity. Many costs, time, and expansive knowledge of the labor laws are necessary when expanding into a new country. An EOR provides a temporary solution for companies with plans to establish a subsidiary in the country. They will hire employees for you and offer expert advice and insights to streamline your new entity setup.
What does an employer of record do?
EOR offers a wide range of services for companies seeking to expand into new frontiers. They handle all processes on behalf of the company. These services include:
Hiring and on-boarding of new employees
Terminating of employees
Processing employee's payroll
Filing and payment of taxes
Managing timesheets
Providing employees with statutory benefits and compensation
Conducting employee's background checks
Managing employees' insurance
Drafting compliant employment contracts
Benefits of having an employer of record for your business
Partnering with an EOR to take over legal responsibilities for your expanding business offers great benefits. Let's see some of these benefits:
Gain access to the global talent pool
Partnering with an EOR like PoweredUp Consulting can help you tap into the global talent pool and hire the right employee who can prove difficulty adhering to the different international employment laws. An EOR will handle the entire process of searching for, selecting, and onboarding the right employee that meets your company's needs.
Seamless payroll processing
Payroll management is vital for every company to conduct, but it can be time-consuming and tedious, especially when it comes to international employees. An EOR will take over the process and ensure your payroll is prepared on time and accurately. They will also make sure your employees are paid on time and are provided with the right benefits.  
Reduce regulatory risks
Establishing your business in different countries can increase your chances of facing risks, especially financial and legal ones. An EOR will help you mitigate these risks as they assume all liabilities associated with your business. An EOR will handle all employment-related matters, ensure compliance with labor laws, and prevent legal actions by employees and the government.
Improve compliance
Expanding into different countries can be a complex and time-consuming process. And requires compliance with local laws at both the federal and state levels. An EOR can help businesses find a way through these complex laws and ensure they remain compliant with local laws and regulations. Most especially, laws are concerned with employment, taxes, and benefits to prevent the risk of facing costly fines and penalties.
Reduce costs
Hiring international employees, registering your business with the state authorities, setting up a physical presence in the country, and managing employees can be costly for most businesses. An EOR can help reduce the overhead costs of running a business in a foreign landscape by sourcing and hiring employees on your behalf, managing your employees, and complying with employment and tax laws on your behalf.
Streamlined human resources processes
Extending your administrative tasks to a new market can overstretch your human resources team, especially when it comes to payroll compliance, timekeeping, employment compliance, and overall employee management. An EOR can help businesses streamline their HR processes and reduce administrative tasks, so their HR staff can focus on more strategic initiatives.
Improve employee satisfaction
Employee satisfaction is key to business success. Employees who are always satisfied will remain motivated and productive. Having employees across the world can make it difficult to maintain satisfaction when employed directly.
However, employing through an EOR ensures your employees have a better experience. This is because an EOR offers benefits that are right for them and provides better support for their needs.
Why choose PoweredUp Consulting as your employer of record?
An EOR provides businesses with the path to reach their desired goal of tapping into the global talent pool in any part of the world. They serve as the bridge between your company and your global employees. PoweredUp Consulting is one of the top EORs in Africa. With our expertise and knowledge of regulatory laws, we will employ and onboard employees who fit the fine details of your company's culture, manage your employees, and perform every administrative task. Contact us for more information about our services and the benefits they offer for your business.