Attracting great talents
Hello! This write-up was put together to help anyone that needs a guide on how to recruit a new staff without having issues. This guideline will work for either the formal or informal sectors, big organizations or SMEs, permanent, contract or any other form of arrangement within any sector.
So, let's take a brief look at what Recruitment is.
It is the whole process of getting a candidate for a job opening. It covers different stages from advertising the vacancy, attracting
applicants, shortlisting, interview process, selection, hiring and on-boarding.
It could be a daunting process but it is actually simple and can be an interesting journey if you understand the basic guidelines.
Obviously, the main reason for going through a recruitment process is to, by the end of the process, find the person who is best qualified for a vacant position and who will work towards attaining the organizational goals
Here are the basic Steps to guide your process.
Human Resource (People) Need identification
A need for personnel has to be identified. This may be a newly identified position or an existing one to replace an exit staff.As soon as this is identified, some necessary things need to be sorted immediately.
These are;
Understanding the job that needs to be done,
Peculiarities of the job,
The reporting lines,
Position
Salary,
Work tools etc.,
These will help in putting together a detailed JD. A carefully designed JD will also play its role in attracting the right applicants for the job. It creates an image in the minds of applicants which makes it easier for them to predict their suitability for the job.
Candidates' Search
Here, the need is made public through adverts. This can be online (social media, email, professional networks, recruitment agencies, etc.) or offline (notice boards, internal memo, newspaper adverts, Mobile advert, word of mouth etc.)A good recruitment process must be objective.
This starts at the early stage by ensuring that the job opportunity is made available and open to all interested and eligible applicants. As such, a combination of the various advert options should be explored. The more advert options, the more the applications.
At times, it happens that enough qualified applications may not be received at the 1st instance. You can then place the advert again or share the ad link with friends or with your network. Recruitment agencies can easily take away such stress if you choose to outsource it.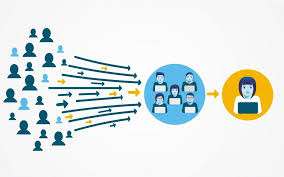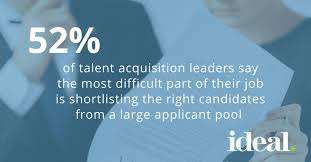 Shortlisting
This may be uninteresting and time consuming but it's a critical part of the whole process. A lot of unqualified applications will crowd a few qualified ones. If care is not taken, good CVs can be lost in the crowd. So what is the solution;
Go through each CV carefully but smartly sorting through. Ignore, archive or delete the unqualified, shortlist some for a second review, then for a third or fourth review as deemed necessary
Use an Applicant Tracking System. This will make it easier to prune the applicants. It allows you and any other team member to continue the work wherever the last person stops, you can work from anywhere, at any time, on any device etc.
Some recommend spending an average of 10 seconds to review each CV. I will recommend you do it smartly as we don't all flow at the same pace.
Interview
The organization starts to interact with the applicants through SMS, Phone call, email etc. This is where to pre-qualify candidates and take them through the interview funnel. There is no "one size fits all" kind of funnel, so you can design yours to suit your environment. Here is a simple guide that can be modified;
Phone interview/screening
Online/physical test, assessment center,
Personality test i.e Myers-Briggs Personality Test
Oral interview,
The funnel above can be in any order and can be a combination of any 2 or more of the stages. It is always more reliable when more than 1 person is involved because the reports generated here will ultimately influence the decision at the next but crucial stage.
Selection
This is where the decision either to hire or not is taken. The decision here can either crown all the recruitment efforts or lead to a frustrating experience if the wrong candidate is hired. To select, a recruiter should consider if the job requirements match the candidate's;
Skills
Knowledge and
Abilities
After all processes have been carefully gone through, to ensure validity of the recruitment process so far, it will be great to do some checks on the institution(s), previous employers, referees, his social media pages or simply google his name………this is best before the ultimate decision is taken.
Hiring a wrong candidate will not only waste the time and efforts so far, it will put the recruitment manager in an uncomfortable position. The thought of termination is not appealing and should be avoided at this point.
As soon as the decision to hire any candidate is taken, an offer will be made to the selected candidate and its acceptance will open the doors to the next and final phase of the recruitment process.
At this stage, if you find yourself in doubt, please DO NOT HIRE. You may choose to seek an expert   opinion, ask for help, or even start the process all over again with a fresh set of applicants.
On-boarding
This is where you welcome and introduce a new hire to the organization. The 1st two or three days of resumption should be used to fill necessary forms, discuss employment benefits, go through the company policies, procedures, introduction to team members and taken round the organization. This is called orientation.
However, a longer period should be allowed for the new hire to learn the company culture, understanding the peculiarities of the people, job and organization, build relationships etc. This period where the company helps the new hire to become accustomed to the new environment is called on-boarding.
On-boarding can be easier when you assign an old team member to the new hire. This is the buddy system and it helps the new hire to progressively integrate into the system at a relatively faster and more comfortable way.
Closing
As soon as a job opening has been taken, be kind enough to inform and appreciate all applicants that the job opening has been filled and the recruitment process is closed.
Quite a number of organizations may not be practicing this but I think it will be great to take it as an important part of the whole process.
We hope this helps. If you need support with your recruitment, training, payroll or outsourcing, please feel free to reach-out to us at PoweredUp Consulting.